May 2022 was Lancaster County's driest since at least 1888 when record-keeping began. Between May 1st and June 6th, less than half an inch of precipitation fell. By the time these facts appeared in local media, lawns and roadsides had turned brown and concern for crops and pastureland had increased, prompting a local nursery manager I know to remark, "We're in a drought. Why aren't they saying anything about it?" 
So take note: Lancaster is experiencing moderate drought which will have both short- and long-term (> 6 mo.) impacts, according to U.S. Drought Monitor.
How Climate Change Affects Drought
Climate change complicates the current precipitation picture in Lancaster County. The United States Geological Survey (USGS) says climate change could make droughts more frequent, longer, and more severe. Yale Climate Connections (YCC) analysts agree – though it can be difficult to attribute droughts directly to climate change, the science is increasingly pointing in that direction. They also share suggestions for improving drought resilience around your home and neighborhood. 
In addition to these tips, consider installing energy-efficient washers, water heaters, and dishwashers, and using less water—especially hot water—overall. One simple way to do this is to wash all your clothes in cold water, and only when needed. For agricultural users, targeted and more efficient irrigation at a lower pressure is just one of many ways to save water and energy.
The Bigger Picture
The good news about drought is that a single soaking rain can provide lasting relief. Unfortunately, the rain we've seen so far has not been enough, so while we're waiting for more, let's conserve and be smarter users of water, and reduce emissions while we're at it. 
One more thing: unlike this dry spell, our climate problem is not a moderate one. The case has become severe faster than many experts predicted. Let's not wait for news of its effects to reach our screens before saying something about it to friends, family, colleagues, and neighbors. Let's water the seeds of action on climate. 
For more information and solutions, visit (and share!) RegenAll's website.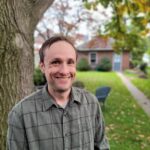 Ryan McCoy is a contributing writer with a background in creative writing and journalism who hopes to bring attention to local climate action. He enjoys reading and being outdoors, and resides in Manheim Township with his wife Adrian and their cat Littles, who has a little face.